More Than Thirty Years And Still Growing Strong
National Art Materials, one of the premier suppliers of Art and Craft materials to Australia's creative community for over 32 years. Managing Director Pamela Fitz-Gibbon discusses her long history in the trade.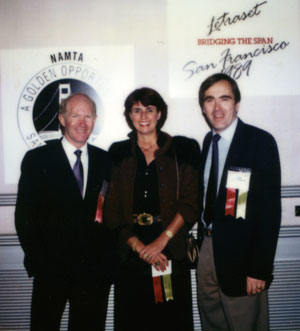 It is often said 'from little things big things can grow'. Pamela Fitz-Gibbon is a firm believer in this philosophy, a legacy of the relationship with her father Norman Kaye.
Started in 1987, by Pamela, John Fitz-Gibbon and partner Kevin Jackson (pictured right), National Art Materials has grown from a niche supplier to become one of Australia's premier wholesalers of art and craft materials, servicing more than 500 retail art and craft stores nation wide.
"We originally worked from a 6,000 sq ft. warehouse with 4 staff and a black and white, 30 page catalogue. In 2005 we moved to a 20,000 sq ft. more modern facility where we now service a wide range of customers with staff in all states and our 260 page full colour catalogue", says NAM Managing Director, Pamela Fitz-Gibbon.
"NAM has been responsible for bringing many new products to the Australian art market, including the Oil Bar, the Colourshaper, Artcare (the only portfolio with a locking system), the Pebeo and Holbien range of colours, Mabef Easels and Logan Framing Equipment".
"After watching many businesses fall by the wayside, the past 32 years have taught us that diversification is one of the key facets of success, so accepting the agency of Pebeo, from France, in early 2000 has ensured we stay relevant. The range has been very popular and has helped secure many new customers".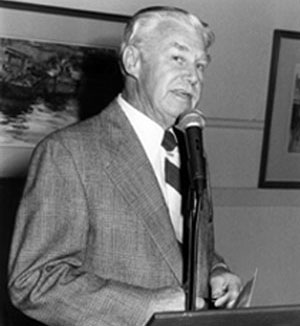 Pamela's father, Norman Kaye (pictured left), was one of the founders of the art materials industry in Australia, where he distinguished himself by taking art supplies to businesses – an initiative with the personal touch. In 1946 he started Cambridge Art Supplies, which soon became known as 'Camden Art Centre'.
Pamela joined her father in the business in 1968. "In the early days, my father worked hard and long to service what was then a small but growing industry. He was delighted to see it evolve, as he introduced many brands to the Australian market including Bocour, Crescent, Holbein, Fredrix, Grifhold, Bishop Graphics and many more. All contributed to creating the diverse industry it is today".
Although Kaye died in 1986, the family name has been synonymous with art materials in Australia ever since. "I am proud of the long term relationship my family has had with the art retail/wholesale community", says Pamela. "Many of the people who Dad serviced in the early years, continue their association with us today – only now it is with their grandchildren! It's great to see the creative tradition continue."
National Art Materials (NAM) was a natural part of that growth.
"I continue to enjoy the great relationships Dad established with manufacturers like Holbein and Fredrix, who reflect the philosophy that quality art supplies do make a difference. However in recent years the demand for lower priced products has seen us include mass produced items from China, a sign of an ever changing world. This move enables many art material retailers to stock both the affordable range products designed to appeal to the budding artist, and the original Artists quality ranges still available from NAM.
In June 1997, NAM promoted its wholesale catalogue with 'Anything, Anytime, Anywhere' and still likes to think this motto says it all. "We're not shy about letting people know what we're up to and why should we be?
"I'm very proud of what we've achieved," adds Pamela. "Although we turn 32 this year, I'm certain there will be more chapters to the NAM story and many new and exciting ranges to introduce to the Australian Art Market. Creativity never goes out of style!"